Martin Qwerly
[[File:|270px]]
Ned Declassfied character
Bio
Appearance
Gender

Male

Relationships
Friends
Series info
First Appearance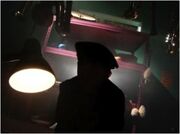 Martin Qwerly (Portrayed by Taylor Chase) is a talkative super-smart student at James K. Polk Middle School. In the first season, he didn't talk super-fast, but he did in the other two seasons. His talking tends to ramble, so people put a cardboard cut-out of themselves beside him and leave. He stops his "super-fast-talking" in either season 2 or 3. (Episode interactions and dialogue) 1-In the episode "cellphones," he tries to help Moze unlock her phone. Later, Martin talks to Moze on "video-chat" warning her about the phone reception. 2-In the episode "study hall," Ned uses headphones to drown out the noise. Martin approaches him,but then he notice Ned's busy and leaves.When Moze called him to talk to her, he was silent, which made her comment, "You have nothing to say? You never stop talking, talk to me." (commenting the fact that he was quiet and is usually talkative)
Le Forger
Le Forger is Martin's mysterious alter-ego and the best note-forger in school. To contact him, a student must leave a note on the cafeteria bulletin board and wait for him to reply. He meets with his clients in the band storage room. In exchange for the forged note, each client must give Le Forger a box of coconut macaroons. In "Guide to: Notes and Best Friends", Le Forger was nearly caught by Coach Dirga, Mr. Monroe, Mr. Gross, and Mr. Wright, but thanks to a warning from Cookie, he escaped through a window.
Community content is available under
CC-BY-SA
unless otherwise noted.